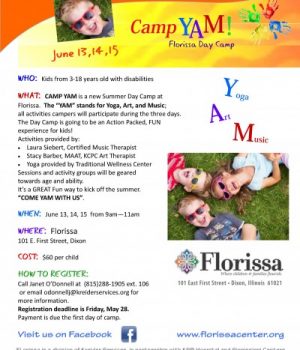 Florissa is pleased to announce a new camp offering for families who have a child (3-18 years of age) with a developmental, behavioral, social or emotional need.
Camp YAM! will be held June 13-15 from 9:00 a.m. -11:00 a.m. at Florissa, 101 East First Street in downtown Dixon. Registration is now underway. Cost for the three days is $60.00.  florissacenter.org/event/camp-yam
Campers who attend will have a chance to experience fun and action filled activities including Yoga, Art and Music!
To register or to find out more information call Janet O'Donnell of Florissa at (815) 288-1905. Or email Janet at odonnellj@kreiderservices.org.  Deadline to register is May 28th. Payment for the three day camp is due by no later than the first day of camp on June 13th.