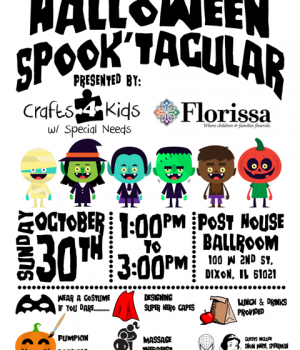 The afternoon of October 30th is sure to be Spook'Tacular! as Crafts 4 Kids with Special Needs and Florissa host a "Halloween Spook'Tacular" from 1-3:00 pm in the Post House Ballroom (100 West Second Street, Dixon).
There will be pumpkin painting, lunch and drinks as well as other activities. Make sure you dress up for this great afternoon of fun! Activities are geared toward children birth to 18 years.
For more information call Florissa at (815) 288-1905.