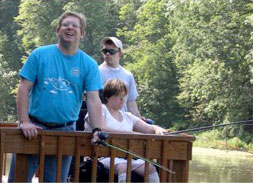 Individual Support services are available to persons with a disability who are more independent and lives in the community on their own. The program is designed to focus on offering support to individuals as they learn to manage their money, access the resources of the community (including the Dixon Park District*), and develop friendships.
---
Supports are available in the following areas:
Personal Care
Household Skills
Accessing the Community
Health and Safety
Leisure and Recreation
Social and Communication
To be eligible for Individual Supports a client must:
Be age 18 or older
Be diagnosed as Developmentally Disabled
Not require 24 hour services
Have capabilities to be left alone for at least 8 hours
Be committed to the goals of independent living
---
Trained Individual Supports staff periodically check in and are available to assist each person on an "as needed" basis. Staff encourage individuals to grow and maintain a greater sense of independence. Services are provided in natural settings. Contact Trina OBrien for more details.