Mission: Kreider Alliance provides advocacy, education and support to individuals with disabilities in northern Illinois and is one of Kreider Service's partner organizations.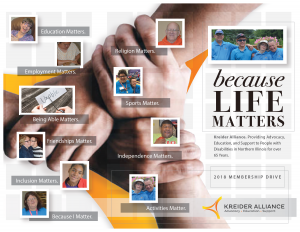 In 1952, the organization that would become Kreider Alliance was started by a group of parents that did not want to place their children in an institution.  It was a simple classroom of 4 students and one teacher.  Today, Kreider Alliance supports programs of Kreider Services, who serves over 600 people with developmental and intellectual disabilities in northern Illinois.  Kreider Alliance is a 501-C not-for-profit organization. Kreider Alliance is located in Dixon, IL. and a past member of the ARC of Illinois and ARC of the United States.
2018 Board of Directors
Betsy Adams, President
Steve Becker, First Vice-President
Steve Bieser, Second Vice-President
Nancy Grygiel, Secretary
Georgann McBride, Treasurer
Board Members:  Vicki Cover, Tom Dziuban, Jana Halfacre, Dawn Howell, Mary Huffman, Pam McCracken, Kathy Schutz, Diana Westart
2018 Kreider Alliance Activities:
March – National Disabilities Month, Sabbath Sunday
March – May, Annual Membership Drive
March 6 – Culver's 10% Back Night in Dixon, IL
March 15 – Scholarship Applications Due
April – National Autism Month, Community Education 12,13 Autism Training at SVCC
April 28 – Florissa 5K and Family Fun Walk
June 4 – Annual Meeting and announcement of 2018 Scholarship Winners
August 2 –  Petunia City Brass, Drum Corps Competition
September 17 – 66th Aniversary
Membership:
Kreider Alliance has just under 200 members.  The annual membership fee is $25 individual, $20 Seniors, First time members, $15, Family $30, Patron or business membership $100
2018 KSI Alliance Membership Brochure
Contact Us:
Kreider Aliance, 500 Anchor Rd.  Dixon, Il (815) 288-6691, Ext 280, Becky Reilly or Betsy Adams.