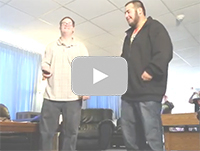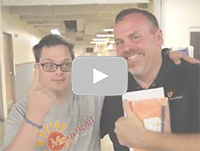 Kreider Services has 29 group homes located in Amboy, Ashton, Dixon, Franklin Grove, Rock Falls, Stockton, and Galena. These sites are "home sweet home" to 194 people with varying degrees of disability.
All of our Community Living homes have 24-hour supervision with well-trained staff in compliance with State of Illinois standards. Depending on the size of home, the capacity ranges from three to sixteen individuals per household.
Staff members assist and guide each person to live as independently as possible in a comfortable community setting. Staff members offer training to individuals to learn how to take care of physical needs, assist with daily personal hygiene, cook, do housekeeping chores, clean laundry, and safely access the community.
Three of our Community Living group homes are designed specifically for individuals with developmental disabilities who are also deaf and/or blind. Staff of the deaf/blind homes have been trained by the Helen Keller National Center for Deaf-Blind Youths and Adults.

One home with four single bedrooms is tailored to assist people with Autism.

In other homes, staff serve people with developmental disabilities who are medically fragile or have other special needs.
Kreider Services strive not only for community access, but for true community inclusion as well. People with disabilities attend the church of their choice, take classes, and volunteer to help with community organizations.
For more information on Kreider's Group Homes, including detailed information, their physical location and admission criteria, please contact Kreider Social Services Representative, Joanie Dinges, by email or direct phone contact at 815-288-6691 ext. 289 for more details.