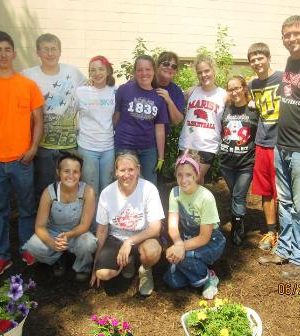 Now more than ever, give the gift of your time!
By volunteering to help Kreider Services you are playing an important role in the life of an individual with disabilities. You are providing opportunities for individual clients to share meaningful experiences with you. During your visits with us, no matter how short the time spent, you will make a difference in another person's life. Please remember, you are giving the most precious gift you can give – yourself.
In order to ensure a high caliber of volunteers, Kreider Services utilizes the agency's personnel policy for screening and provides program orientation along with training on policies and confidentiality. All volunteers are required to follow Kreider Services' mission statement, code of ethics, policies, and procedures of its programs. For more information on volunteering, contact Andrea Pratt, marketing coordinator at (815) 288-6691, extension 280.
Ways to Volunteer and Get Involved
Program Volunteer
Working with individual clients or assisting staff members with groups of clients on activities at one of our program sites for example:
Teaching an art/crafts/woodworking activity
Leading an exercise class
Assisting with gardening/horticultural projects
Tutoring clients in academic skill areas
Assisting with cooking projects
Helping clients write letters
Reading to clients
Teaching music
Teaching a client to use the computer
Showing a client how to use a camera
Coaching job related skills-sharing job information
Assisting with a weekly client bowling group
Coaching baseball, basketball, or track & field for Special Olympics
Accompanying clients and staff on field trips to museums, plays, ball games, etc.
Assisting with Children's Groups of Early Intervention and The Autism Program
Other ideas you may have
Task Volunteer
You may assist Kreider Services by serving on a committee (Board of Directors, Human Rights) or performing a specific task (i.e. taking lunch money in the cafeteria).
Volunteer Requirements
To insure the security of you and clients, Kreider asks that a few preliminary steps be taken before you begin your volunteer work.
Background Check
Due to the nature of work Kreider Services provides to individuals with disabilities, there are state standards to which the agency must adhere. Kreider is required to do a criminal background check on volunteers. This involves filling out a short form.
Orientation
To help you become acquainted with Kreider Services and to be better equipped to help individuals with disabilities, you will be briefed on the following subjects:
Developmental Disabilities
Client Rights and Confidentiality
Abuse Prevention and reporting procedures
Use of universal precautions
Safety rules
Medical Check
If you are working with clients at any one of the Kreider Services program sites, you will be required to have a TB test. This is for the protection of you and the clients you are volunteering with. You are exempt from this requirement if you work in the education or other healthcare field and can provide proof of having had a TB test within the past year.
Task volunteers (i.e. Board of Directors, Human Rights Committee, etc.) are not required to complete the TB Test.
A Hepatitis B vaccine (a series of three shots) will be offered to you; however, this is not a mandatory inoculation. You will be asked to sign a waiver form if you choose not to have that series of shots.