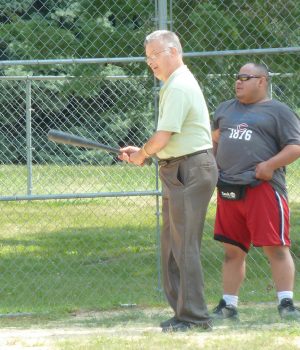 Special Olympics
Special Olympics is dedicated to empowering individuals with disabilities to become more physically fit, productive, and respected members of society through sports training and competition. The basic philosophy of Special Olympics is founded on the belief that people with disabilities can, with proper instruction and encouragement, learn, enjoy, and benefit from participation in individual and team sports.
Kreider Services' Special Olympics
Individuals with disabilities who participate in Special Olympics develop improved physical fitness and motor skills, greater self-confidence and a more positive self-image. They grow mentally, socially, and spiritually through their activities. They exhibit boundless courage and enthusiasm, enjoy the rewards of friendship. Ultimately each person can discover not only new abilities and talents but "their own voice" as well.
Kreider Services is proud to offer Special Olympics and has year-round training and competition in five Olympic-type sports. There is a small fee to participate in Special Olympics.
Who can participate in Special Olympics?
Individuals who:
Are eight years of age or older.

Have been identified by an agency or professional as having mental retardation, cognitive delay, and or has a closely related developmental disability.

Have been registered to participate in Special Olympics.
For more information on Special Olympics, please contact Lisa Olson at (815) 288-6691.