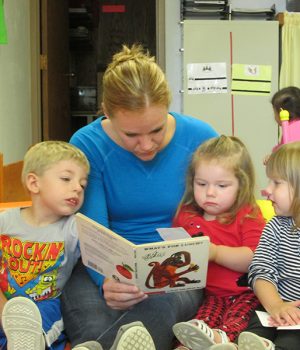 A collaborative partnership, Florissa is a centralized service facility for children (0-18 years of age) with behavioral, developmental, social or emotional needs. Florissa is located at 144 North Court, Dixon, Illinois 61021.
The main goal of the pediatric developmental center is to provide the opportunity locally for evaluation, diagnosis and treatment under one roof. Florissa is collaborating with Dr. Pratip Nag of KSB Hospital and the staff of Sinnissippi Centers to provide a multi-disciplinary approach to evaluation and treatment, while working to streamline the intake and referral process for children's services.
Kreider Services received a three year grant from the Office of Rural Health Policy, Health Resources and Services Administration (U.S. Department of Health and Human Services) to implement the pediatric developmental center. A separate grant from the Illinois Children's Healthcare Foundation is also supporting the work at Florissa.
Partner organizations of Florissa include Kreider Services, KSB Hospital, Sinnissippi Centers, The Autism Program at Kreider Services, Lee County Health Department, Lee County Special Education Association, Ogle County Educational Cooperative and several parents.
Hours of operation for Florissa:
Monday – Thursday: 8:30 a.m. – 4:30 p.m. / or by appointment
Friday: 8:30 a.m. – 12:30 pm. / or by appointment
For additional information about services call (815) 288-1905 or visit Florissa's web site: www.florissacenter.org. Information about upcoming activities of Florissa will be shared via the center's Facebook page or via the calendar event page.