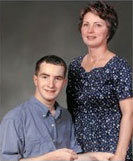 Kreider Services Foundation was established in November 1985 with a goal to develop private funds to ensure long term financial stability for services for people with developmental disabilities. Kreider Services Foundation is a 501 (c) (3) charitable organization that is supportive of Kreider Services.
The Foundation has four major functions:
Strategically plan for the long-term future of area services to people with developmental disabilities
Assure that resources are available to fill funding gaps and assure long term funding
Provide loans for need capital improvements to Kreider Services and the Kreider Alliance
Manage assets in a prudent fiscal manner
In recent years, the Foundation has provided loans to Kreider Services to support construction of group homes including Pine Meadow (Dixon) and Avenue B (Rock Falls). The Foundation has provided financial support to the Early Intervention program for children birth to three years old, and for client transportation. The Foundation also provided funds to assist in the development of the new Access-Ability Park adjacent to Kreider Services' administrative office, and the purchase of an industrial building to be used for recycling and other ventures.
Donate to KS Foundation
Charitable Contributions
Charitable contributions to the Kreider Services Foundation are welcome throughout the year and are tax-deductible to the fullest extent allowed by law. This information is provided for your general reference and should not be considered legal advice. Please consult with your professional advisors about this or any financial decisions.
On-line Donation
To make an immediate impact on those served by Kreider Services, use PayPal to make an on-line donation. Click on the PayPal Donate icon. Once you are on the donation page you will be asked for specifics for the gift that you would like to make. You can even make arrangements for a recurring donation if that is your wish. Thank you for supporting the mission critical work for Kreider Services in assisting persons with intellectual and developmental disabilities.

Kreider Services takes your privacy seriously. When you make an on-line donation, Kreider will collect your information only for the purpose of completing the transaction. Kreider will NOT sell, rent, trade or give away any of your personal information to any outside organization or individual.
Mail a Donation
If you wish to mail a donation to Kreider Services Foundation, please contact:
Kreider Services Foundation
Attn: Andrea Pratt
500 Anchor Road
Dixon, IL 61021
Phone: (815) 288-6691, ext. 280
Fax: (815) 288-1636