Friday, April 21, 2017 -
7:00 PM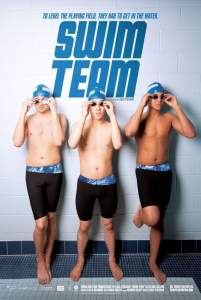 On April 21 and as part of April as Autism Awareness Month, Kreider Services in partnership with Florissa and the Dixon Family YMCA will host a public screening of the movie, "Swim Team," which documents the journey of three teenage boys from New Jersey who happen to have Autism.
The screening will be held in the Auditorium at Dixon High School starting at 7:00 p.m. This screening is open to the public. There is no charge for admission, although donations at the door will be accepted.
The parents of one of the boys take matters into their own hands. They form a competitive swim team, recruiting diverse autistic teens and training them with high expectations and zero pity. What happens next alters the course of the boys' lives.  SWIM TEAM chronicles the extraordinary rise of the Jersey Hammerheads, capturing a moving quest for inclusion, independence and a life that feels winning.
`